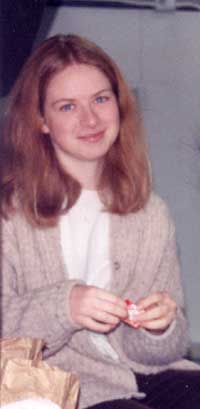 Memorial Service
The Home Church
April 17, 1999
Bao-Yi Chang, classmaate
I could never understand how Missy could live her life so light and stress free. But now I know that to her life was not stressful, it was delightful. Where I only saw worry, she found delight.
When I was getting my driver's license I said, "Missy, I must lose weight. I must have it say 5-5-105 on my license."
Missy exclaimed, "That would sound so cool. All those five's."
"But I don't know how I'm going to lose that much weight before I get my license."
"I've got an idea," said Missy. "I think you should eat a lot of junk food and gain so much weight that it would say 5-5-155! That will be even more cool because there will be even more five's!"
Even in such short seemingly silly moments as these, Missy has shown me that life should not be spent in worrying because life is delightful. I'll always remember that.
To Sarah and Julie I want to say thank you for being Missy's sisters. I love you.
And to Steve and Wanda: Thank you for being Missy's parents. I love you.