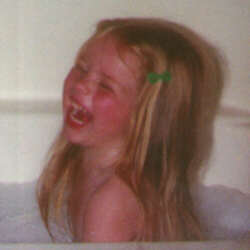 Memorial Service
The Home Church
April 17, 1999
Uncle Mike Westerfield
As we have gathered together as a family this week to remember Missy and to share our grief and our love, I have found it helpful to consider what Missy would say to us at such a time.
First, Missy would say to us "Enjoy each day of your life to its fullest." Missy so obviously found joy in her life. Her sparkling eyes and loving smile spoke to us more than any words.
She loved listening to family stories, playing board games with her cousins, and spending time with her family. She found that music was an expression of who she was and that music was a powerful way to communicate beauty and truth. God gave Missy her musical talent and she did not disappoint Him in how she used her talents. Yes, Missy would want us to find the joy in the life that God has given us.
Second, I believe Missy would want us to look out for one another and especially be mindful of those around us who are often overlooked. Missy always cared for the quiet ones, those who may not be the most outgoing, the most talented, or the most beautiful.
To Missy, it was important to recognize the value of people. Missy could have felt superior to most of us; she was beautiful, she was talented, and she was confident. Yet, Missy always made every person with whom she came in contact feel special, through her smile or her kind words.
Lastly, I believe Missy would tell us that the reward she is now experiencing is worth more than we can know. She would encourage us to keep the faith and press forward with our lives. Missy loved the Lord with all her heart and she now is with Him surrounded by pure love.
I will miss her, as an uncle and as a brother in Christ, but I am encouraged through her life of Christian witness to remain firm in my devotion to the Lord and I look forward to the day all of us will be together again on the other side.