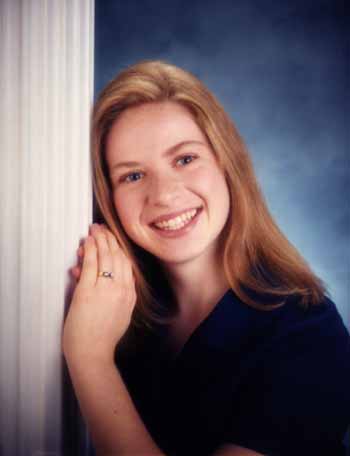 Sunnyvale Sun
Newspaper article
April 21, 1999
Melissa Haynes Belton, graduate of The King's Academy in Sunnyvale and daughter of Steve and Wanda Belton of Sunnyvale, died April 10 in a car crash in Santa Barbara County. She was 19 years old.
Belton was an accomplished oboe player in her first year at Biola University, majoring in oboe performance. While in high school, she had played with the California Youth Symphony and the South Bay Youth Orchestra. She performed with the All-State Honor Band, All-State Honor Orchestra and the County Honor Band. She also played the English horn and piano.
Her parents said they will remember Missy as bright, happy, well-loved, determined and humble.
"We accept this as part of the Lord's plan for Missy and as part of the tapestry of life," Stephen Belton said. "We don't understand it, but we accept it. But that doesn't diminish our pain and grief."
The Beltons said they have been sustained by the outpouring of love and support from their family and friends.
Wanda Belton said that the family is taking comfort in knowing they will see her again.
"We are learning that we can be grieving and mourning one moment, and then rejoice the next moment, knowing that she's in a better place," she said.
Helga Gladney, a California Youth Symphony spokesperson, said Missy was an outstanding person and musician. "Everybody in the orchestra loved her and was happy in her presence," Gladney said. "She was a wonderful and very accomplished musician."
Belton is survived by both her parents, her two sisters, Sarah and Julie, and her brother, Connor, of Culver City.
In lieu of flowers, her family encourages people to send a donation to one of the following memorial funds: the Missy Belton Memorial Music Fund at The King's Academy Music Department, 562 Britton Avenue, Sunnyvale, CA 94085, or the Melissa Belton Memorial Music Fund at Biola University Music Department, 13800 Biola Avenue, La Mirada, CA 90639.