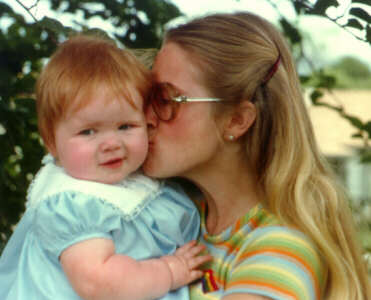 Memorial Service
The Home Church
April 17, 1999
Wanda's message
(This message was read by Dan Sawyer for Missy's mom.)
Dear Missy,
Why Has God given me the extraordinary privilege of being your mother? It has been a wonder to behold as I've watched you develop in every area of your life. It hasn't just happened either. I've observed you to purpose to become close to God by studying and being in His word. I thank the Lord for that day back in 6th grade when you prayed for God to forgive you of your sins and to become Lord of your life.
You've wanted to be a good daughter and sister, so you've been kind and loving to each of us. Making us laugh was so easy for you. You always would look at the positive side of every situation and encourage us to do the same. That seemed to be such a high standard you insisted on for all of us.
I appreciate how you were such a loyal friend and showed good judgment in whom you chose to be close. We never worried about who you were with.
Oh, Missy, how you enriched our lives with your music! Your enthusiasm was catching and you taught us to love music. What fun it was to attend your concerts and anticipate your solo parts. Dad and I would smile and wink at each other when we heard you. Did you know one of my favorite things to do in life was to sit near you at home and listen to you play the piano? Surely you must have as I resorted to begging to hear you play. I could never understand why you were so reluctant to play the oboe or English horn in front of us. You would only practice in your room with the door closed. But, guess what, you had a hollow door and we could hear you perfectly! Thank you for your diligence in practicing, it has given us more joy than you could ever imagine. Knowing you are now silent to us is part of our grief.
Your going away to Biola for your first year in college was exciting for all of us. How we enjoyed your Sunday night calls catching us up on your classes, new friends and what you were doing in music. We found ourselves living the joy of college days through you. Thank God he directed you to Biola. I know you loved everything about it and everyone in it.
Missy, God is good. He let your last words to me be "I love you, too, Mom." I will always treasure those words as I wait to see you again on the other side. Oh Lord, how I will miss her. You will always live on in my heart as my sweet Missy.
I love you, Babe.
Mom