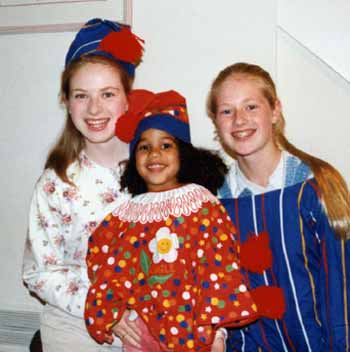 Memorial Service
Biola University
April 22, 1999
Bob Feller, conductor
Melissa Haynes Belton was an answer to two years of prayer for us here at Biola. We were finally blessed with a gifted young oboe player.
My wife Sue describes her first encounter with Missy at the Wind's Retreat last fall. "As I watched my four-year-old daughter Kristina splash around in the pool with the big kids I was aware of a soft voice beside me. I looked over to see Missy engaged in a game of smiles and peek-a-boo with our then five month old daughter Kaitlin. As we chatted for a while she related how much she loved children, especially babies. Not picking up on her hints she looked up and asked, "Could I hold her"? At that time Katy was going through her "I only want mommy stage," but since she seemed so enthralled with Missy, I gave it a try. Forty-five minutes later Katy was doing fine but Kristina wanted to go. As Missy handed her back to me, she volunteered that if we ever needed a babysitter we should give her a call. I am sorry that we never got to take her up on that. Her tender spirit was just what we would want our kids to have some day."
Missy added more to our band rehearsals than the wonderful sounds of the oboe. She also gave us her radiant smile and her infectious giggles. In the intense heat of rehearsal, conductors are famous for uttering nonsensical pearls of wisdom. There were many such instances in which Missy took pity on a certain band director and his attempts at humor. And she was the only one to laugh. She was the only one to laugh with that unforgettable squeal.
I, we all, will miss her for those laughs and that smile.