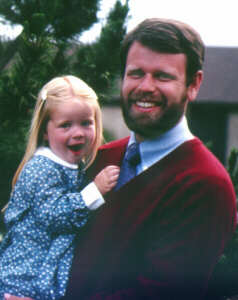 Memorial Service
The Home Church
April 17, 1999
Steve's message
(This message was read by Dan Sawyer on behalf of Missy's dad.)
Missy, O Missy, our sweet sweet Missy. How we miss you!
Words have failed us as we have attempted expression of the pain, grief, and sorrow that has engulfed Wanda and me. Our tears have filled the deep pit of despair in which we found ourselves that Saturday night and have flowed like a river from our broken hearts since. Thank you, God, that you have given us tender hearts that care, and that we can freely mourn the loss of our Missy even as we rejoice that she is with you.
Missy's life was a precious one. She was everything a daughter could be: Loving, Godly, talented, beautiful inside and out.
When we think of Missy many things come to mind, one of which is determination. This was one determined young lady. As a baby and toddler it about drove us nuts, but we always said that if this drive - this strong will - could be directed for good - then, watch out world, here comes Missy! And she did - she decided that music was her love and she was going for it. She threw her heart and soul into her music - was excited about it, was good at it, and was on a path towards … towards- well, who knows, now?
We also will think of discipline when we think of Missy - she was a person who loved order - arranging the crayons in rainbow order, her clothes, her notebook, her day-timer, all so orderly and neat and tidy. And she held herself accountable to schedules and goals as a measure of this orderly life. We're so thankful that the police have reported she was wearing her seat belt and traveling at the speed limit, although it doesn't surprise us, because that fits with Missy's sense of order - that's the right thing to do.
Missy was also a person of love. She radiated love. It poured from her, and others were drawn to her because of that. One of our most precious memories that we take with us is the Easter Sunday scene of Missy walking into church with us and encountering the Thesing's at the back there. I'll never forget the look on the faces of those angelic Thesing children, who Missy had loved through the years as a baby-sitter. Those children beamed pure joy and happiness at Missy, jumping at her to hug her neck and be close. What a sweet picture of the love that lived there between them.
I know that those of you at Biola who knew Missy very well can relate to that determination of spirit that existed even from her toddler years. A few years ago she realized that music was her love and she gave up sports and other things to concentrate on music. But it wasn't until she arrived at Biola that she really began to learn what it meant to devote yourself to music and what the costs would really be. She was challenged here to throw herself into her music - with body, mind, and soul - and make it her music - to learn to express herself in it, rather than just notes on a page. And from what I have gleaned, she was beginning to get it - she was beginning to make it her music - and she was loving it. She was, in her determined style, going for it.
I could go on and on about this wonderful creation - Missy - that so many of you loved with us.
Death is a strange event. It forces us to think of things that many of us would prefer to ignore and it also gives us a new perspective on life. And that is good - it is good for us to ponder the things of God and eternity and to think about where Missy is now and where we will be later after we pass from this earth. Fortunately for us, we have been given Missy's own thoughts on this matter in a paper she wrote for Professor Bancroft just one month before her death, entitled The Attributes of God. In it she says, "Sovereignty means God controls everything, and can do anything. Sovereignty refers to the fact that God is in charge of everything that happens; everything that happens is under his control. When we think of this it seems like we do not have a choice in the matter of what we do with our life. How could God give us free will if he is in complete control over everything? I think he chooses to let us have free will and to not control us in that area because he wants it to be our choice to follow him. He controls our situations and what happens to us but he does not keep control of how we respond to our situations.
"God controls everything that happens to everyone in the world. He is involved in everything that happens to people in the world. "The Lord brings death and makes alive; he brings down to the grave and raises up." In her application section she says, "I can feel confident that He has controlled my life and I can have faith that I am where he wants me to be. I know that God will not let anything stop his plan for my life. God can turn around bad situations for good. When things happen we accept them because we know God is in charge so it is in His divine plan. God is still on the throne when bad things happen to us."
We know where Missy is. We don't have to doubt that. We have no regrets about her upbringing or her love for us or us for her. She was a special gift to us and we are grateful that we had her in our lives for the eighteen years the Lord gave us. It is too short from our perspective, but we accept God's will in the matter.
And now, in closing let me say this:
To you parents, take this lesson which has been paid for with our pain, to heart. Love your kids in a way that is real and visible to them. Do not allow bitterness or anger to take root - how much greater would our pain have been if we did not know that Missy felt loved and cared for throughout her life.
To you young people, there is a lesson here for you too. The tuition cost is high - our pain - and the lesson is great. Allow your parents to love you - even when that means limits and boundaries. That is part of the expression of their love and rightful caring for you.
To you who knew and loved Missy, we say thank you for caring, thank you for your love and support, thank you for loving Missy this year.
To those who shared the love of Christ with Missy, we say thank you being living testimonies that Missy could learn from.
To those who shared their love of music with Missy: Thank you. Her musical gifts could not have developed without your help, and she loved each one of you greatly. In music, she was finally able to express herself in a way that felt comfortable for her.
To you music majors: Take Missy's determination to heart. Throw yourself into your music - learn to express yourself through it, make it your life, give it your all - put your heart, your mind, and your soul into it.

And to our Heavenly Father, we also say thank you and praise you. You gave us a special gift in Missy - for a much shorter time than would have been our desire - but we are abundantly grateful that you put Missy in our care even for these eighteen years. We pray we accomplished your will in her life, and we thank you for your loving arms that embrace her now. Although we grieve and cry out to hold her once again, we know she is at peace with you. We commit her to your loving care now, and look toward the future day when we will join arms with her in worshipping you together. Now we ask that you would strengthen us to the tasks that you have laid before us for the rest of our days.
Missy, my dearest, we love you and love you and love you and will always love you.