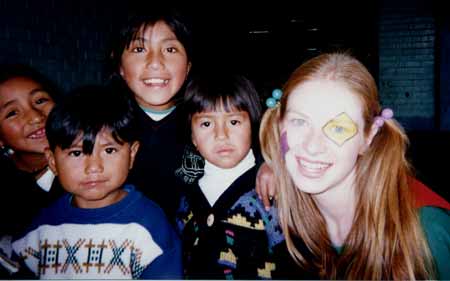 Help One Child
Newsletter article
May, 1999
This issue of Dividends is dedicated to the memory of Missy Belton, sweet follower of Christ, daughter of Steve and Wanda Belton, and freshman at Biola University. Missy was driving alone to visit her sister at Westmont College on April 10 when she had a car accident, bringing her short life of 18 years to an end.
Before going away to college, Missy had been a Help One Child volunteer, working with her family in providing respite care for foster children in their home and helping with other activities for the children.
Missy's reach, however, extended far beyond Help One Child. Her quiet spirit reached right into the hearts of the teachers, parents, children and peers who knew her. Her superb musical ability brought her many honors in the county, at The King's Academy High School, and at the state level. Her helping hands took her to Mexico six times, where she worked with needy children and helped build houses. At age 16, Missy traveled to Ecuador to share the gospel on a short-term mission trip.
We must stay focused on the encouragement offered by Missy's precious life, rather than on the discouragement posed by its shortness. Galatians 6:8b-10 reminds us: "he who sows to the Spirit will from the Spirit reap eternal life. And let us not grow weary in well-doing, for in due season we shall reap, if we do not lose heart. So the, as we have opportunity, let us do good to all men, and especially to those who are of the household of faith."
Though we wish that God would not have allowed this tragedy, we can expect Him to provide strength for us to do what He put us on earth to do, just as Missy's life witnessed to us.