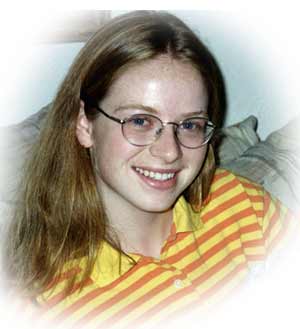 Memorial Service
The Home Church
April 17, 1999
message in program
Dear friends and loved ones,
Missy's life, short as it was, stands as a testimony to the love we shared as a family, to our love of Christ that we showed her, and to her, as a young adult, embracing Jesus as her own Lord and Savior.
The facts of her life are impressive and, although not adequately reflecting the person that she was, are worth mentioning. Missy was home schooled with her two sisters through sixth grade, then entered and graduated with honors from The King's Academy in Sunnyvale in 1998. She entered Biola University in La Mirada, on a music scholarship, majoring in oboe performance. Her interests included music, reading, and skiing. She received numerous awards for her musical ability, including being named to the County Honor Band, the All-State Honor Band, and the All-State Honor Orchestra. She was awarded the John Philip Sousa Award for Outstanding Instrumentalist. She played oboe and English horn for the California Youth Symphony and the South Bay Youth Orchestra. She taught oboe and piano privately as well as playing by invitation with various other orchestras in the area.
But the real Missy will be remembered for her love, her laughter, her radiance, and her Godly character.
She showed determination in her life and threw herself into projects and tasks with abandon. She knew how to get things done and showed time after time her ability to achieve mastery of whatever she tackled. She truly was, as Uncle Jack commented, the "I can do it girl."
Missy was physically a beautiful young woman. Her hair had a reddish hue that shone as it framed her soft facial skin tones, and her eyes were a bright blue color that sparkled with her laughter and smiles. When she entered a room there was a radiance that drew people to her, setting the tone for her charismatic personality to shine forth.
Interestingly, she did not fully realize the way she affected those around her. They were drawn to her, and looked to her for leadership, without her ever seeking the mantle of leading. But lead she would. When there was a need she was able and ready to step up to the task. She had the people and organizational skills to handle projects big or small.
Missy loved children, and baby sitting was one of her outlets for expressing that love. The families for which she sat regularly became dear to her, and her to them. She involved herself in ministry with kids, both here and abroad.
Her compassion for others and her willingness to give of herself on behalf of others was exceptional. She understood and accepted her calling in this area of service. Perhaps this came from her sense of fairness and her sense of right and wrong. Missy could not stand unfairness, and always stood for the underdog. She had insight into situations that turned on what was fair or not fair which others could not see. We all learned about this in our time with her.
Missy was a loving daughter and a loving sister to us, and a loving friend to you. She gave her love freely, yet received it reluctantly it seems. We will cherish many memories of times we have spent together laughing, crying, and living life to the fullest. We will also grieve and mourn the loss of what would have been. We receive comfort and hope in the resurrection life that is promised in Scripture: We will all be together again in eternity. Yes, Lord Jesus, come quickly.
With gratitude for your love, prayers, and support,
Steve, Wanda, Sarah, Julie