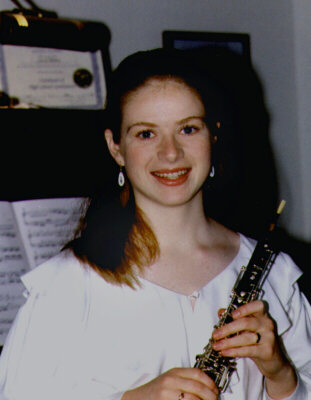 Memorial Service
Biola University
April 22, 1999
Valerie DiCarlo, Oboe teacher
Good morning. I am really humbled to be here. I feel so blessed to have crossed paths with Missy. God was gracious to bring us together through our mutual love of music and playing the oboe.
In the brief time I knew Missy I watched her blossom both musically and spiritually. I thought I would share from my own limited experience about some things that I observed not only as her teacher but also person to person.
I felt that Biola was a good place for Missy to begin her professional musical journey because it gave her a safe supportive place to learn. She was adjusting to many new things - a new environment, new expectations (her own and others), and a new oboe teacher, and in the beginning of the year Missy struggled a bit with the newness of being here. And also, in my humble opinion, Missy was struggling to become a more independent thinker.
Last month she even shared with me some of her frustrations. I assured her that I would be there to help her in any way I could. I would show her how - I would pass on any knowledge or experience that I could - but that I would not be able to do it for her. As teachers we tend to feel guilty for being hard on our students and I was sometimes hard on Missy. But she had shared with me her high aspirations for herself in music and the oboe, and I wanted to help her go there with it.
In this last semester I saw her really coming into her own - the light bulb went on and it started to click. Her last lesson was very, very special. I could not come down to Biola to teach so Missy came up to my house. We had a blast. It was right before Spring Break and she was working on her recital piece that she was going to perform this morning. We listened to recordings I had of the piece that she was playing and we worked on her reeds. Her reeds have truly improved - I would even buy her reeds to play on - and believe me they were a frequent source of frustration.
We spent over two hours together and I was so pleased with the progress she was making. I gave her a big pep talk before she left and I assured her that she had truly turned a corner and that her hard work was really paying off. I was starting to see the petal blossoms of a more independent thinker.
The expression on Missy's face when she left my house that day is permanently stamped on my mind. And the spirit that she was emitting is permanently stamped in my heart.
She was beaming and she was happy. That's how I am going to remember Missy.