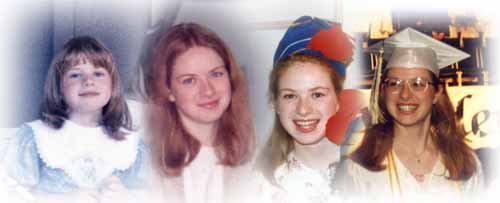 Obituary
The San Jose Mercury News
April 13, 1999
Melissa Haynes Belton. On April 10, 1999, Missy, beloved daughter of Stephen and Wanda Belton, passed into the presence of the Lord after a single-car traffic accident in Santa Barbara County. Missy was born on July 30, 1980, in Sacramento. She is survived by her parents and her two sisters, Sarah and Julie, of Sunnyvale, and her brother, Conner, of Culver City. Missy graduated from The King's Academy in Sunnyvale, and was in her first year at Biola University in La Mirada, majoring in oboe performance.
Missy was an accomplished musician, having been a member of the California Youth Symphony and the South Bay Youth Orchestra while in high school. Also during high school she was named to the All-State Honor Band, All-State Honor Orchestra, and the County Honor Band, and was the recipient of the John Philip Sousa Award at The King's Academy. She was a gifted musician who played the oboe, the English horn, and the piano. After completing her education, Missy aspired to play professionally and teach. Missy was loved by all who knew her, especially those young children she knew through baby-sitting or ministry opportunities. She will be deeply missed by her family and friends. We take comfort in the knowledge of her faith in the risen Lord, and know that she is now at eternal rest with Him.
A memorial service will be held Saturday, April 17, 1999, at 11:00 AM, reception following.
The Home Church
1799 S. Winchester Blvd
Campbell, CA 95008
408-370-1500
In lieu of flowers please consider a donation in memory of Missy to one of the following two memorial funds:
The Missy Belton Memorial Music Fund
The King's Academy Music Dept.
562 Britton Avenue
Sunnyvale, CA 94086
408-481-9900

The Melissa Belton Memorial Music Fund
Biola University Music Dept.
13800 Biola Avenue
La Mirada, CA 90639