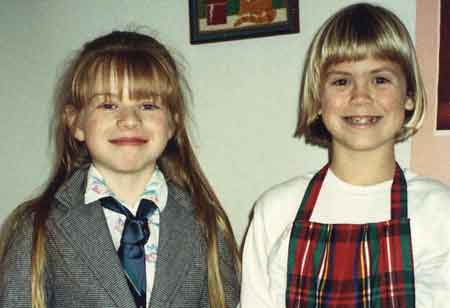 No Words
No words, no rhymes
Make sense this time.
She's gone. No way
Just words can say
How much we ache,
For your sake.
Our hearts cry out.
There is no doubt
She is with Him.
But our light's dimmed
Cause we're without
Her warmth, her smile,
For even just a little while.
She touched our souls.
She changed our lives.
She left a hole
That's just her size,
Just her brilliance,
Just her eyes.
She left a hole,
But she left some parts
Of her radiance,
Her precious heart,
Of her tender spirit,
Her gorgeous hair,
Of the many ways
She showed she cared;
Of the songs she played,
The friends she made.
Her laugh we hear
Through all our tears.
Her love, her joy,
Her hope in Him
Lives on in the hearts
Of all her friends.
We can hardly wait
To hug her again.
Til then we cling
To these precious parts.
Missy lives forever
In all our hearts.
Mickey Penrose
May 17, 1999